Description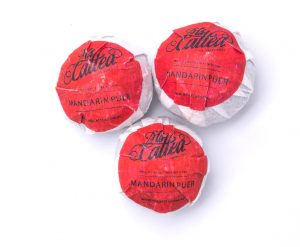 THIS LOVELY MANDARIN TEA IS FULL OF FLAVOURS AND GOODNESS FOR YOUR HEALTH! IT IS CAREFULLY SELECTED THE BEST MINI MANDARINS FROM A FAMOUS MANDARIN TOWN, XINHUI IN CHINA. PREMIUM COOKED PUER TEA HAS BEEN FILLED IN TO THE DRIED MINI MANDARIN SKIN AND TOGETHER THEY HAVE BEEN BOTH SUN DRIED AND LOW TEMPERATURE BAKDED DRIED, TO ENSURE THE FLAVOURS HAVE COMBINED AND DEVELOPED.
SAME AS TRADITIONAL PUER TEA, THE LONGER YOU HAVE STORE THE MANDARIN PUER, THE BETTER THE FLAVOUR WILL DEVELOPED, AND THE MORE HEALTH BENEFIT IT WILL HAVE. IT ENCOURAGES DIGESTION AND WEIGHT CONTROL, SMOOTHS SORE THROAT AND COUGHS, REDUCE STRESS AND MANY MORE.
---
Ingredient: cooked puer tea, mandarin peel. No artificial flavours or colours. 
---
WESTERN BREWING METHOD
One piece per 400ml teapot, 90-95°c water.
2-3mins per infusion, up to 3 infusions. Stop the infusion when the liquor becomes dark. 
GONG FU BREWING METHOD
One piece per 150ml teapot/gaiwan, 95-100°c water, 1-second quick rinse.
30 secs for 1st infusion, add 10 secs for the next infusion, up to 8 infusions.
---
Note from Ms.Cattea:  Store in an airtight container/foil bag in a clean and dry place, avoid heat and sunlight. The tea can last for many years in good storage.